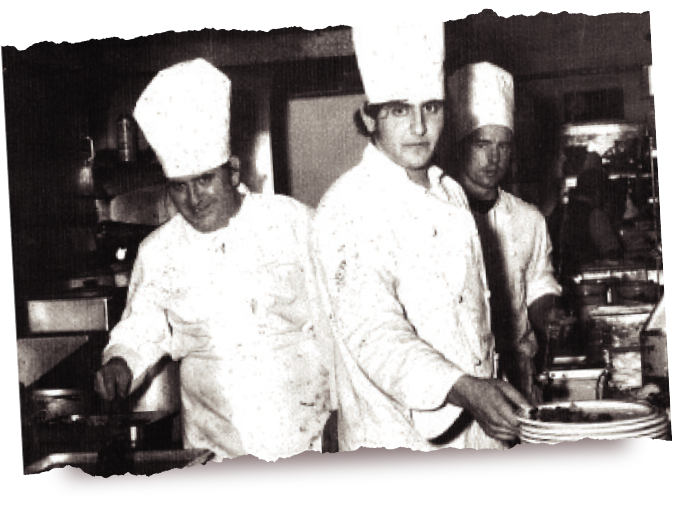 Chef Larry Gagnon in his early days of catering.
Food has always been a constant source of joy to Mary and Larry Gagnon and a personal gesture of love and caring to those they serve. After operating a small catering company since 1974 and cooking for their own five children, Mary and Larry decided to expand and serve lunch to Bay Area school kids. For more than a decade, the couple was the engine behind the "Children's Choice" school lunch program.

In 2003, Mary and Larry looked to create a website and paperless ordering system for Children's Choice. They reached out to their son Justin. Instead of building a website, Justin enlisted his college friends, Keith and Ryan, to partner with his parents and revolutionize the archaic industry of school lunch -and Choicelunch began.
It's been almost 20 years since co-founders Justin, Keith, and Ryan quit their jobs and took the leap on Choicelunch. With families of their own, these lunch dads have first-hand experience in how meaningful their work has become. The right foods can make all the difference in a kid's day, and as busy parents themselves, they know wonderful it is not to have the stress of making lunch. Today, over 300 schools throughout California trust Choicelunch to deliver thoughtfully sourced, deliciously prepared school lunches to their students.
During college, Justin, Keith, and Ryan formed an acapella group called The Undertones and ranked as one of the top 12 collegiate groups nationally.
Listen
In the beginning, the trio lived with Mary and Larry and set up their own version of "David Packard's garage" in Keith's bedroom to save money.
Larry continues to take pride in feeding others and personally caters many Choicelunch staff events.
Keith Cosbey, Ryan Mariotti, and Justin Gagnon
Choicelunch Co-Founders and their families. (Three generations)
We Feed Your
Kids Like
Our Own
For busy parents, by busy parents.
As working parents, co-founders Justin, Keith, and Ryan know how important it is to not have to worry about school lunch. With 9 children between them, eight of whom are in school, their kids are literally Choicelunch customers! When we deliver lunch, it's personal because we feed your kids like our own.
School Lunch Done Right.™
We take every aspect of Choicelunch seriously – the food, the experience, the environment, and the community. Whether we are sourcing ingredients, updating our app, reducing our carbon footprint, or working with food banks and homeless shelters, you can trust that we continuously strive to make sure it's done right.
We use whole ingredients sourced responsibly from trusted partners. We source fresh antibiotic-free chicken and beef. We avoid anything artificial or processed, especially added nitrites, HFCS (high fructose corn sugar), artificial sweeteners, flavors, colors, and hydrogenated oils. With our fresh fruits and veggies, if it's on the EWG's Dirty Dozen list, we make every effort to source organic.
Chef Larry never stops catering – even when cooking at home for his family.
We worked with a registered dietitian to make sure we offer "better-for-you" foods that parents approve of and kids love. Every ingredient and recipe we use has been reviewed and approved. Learn about a few of our kid-faves that are better-for-you. Shh. It's our secret.
Better-for-You – /ˈbedər-fôr-yo͞o,yə/ noun: 1. a Choicelunch phrase used to describe popular entrées that we upgrade with our thoughtfully-sourced, deliciously prepared ingredients. 2. Disguised as normal kid-fave foods, but discreetly elevated. 3. Opposite of typical.
Used in a sentence: My picky eater has no clue that her favorite entrée, The Dynomite Bagel Dog, is better-for-you because Choicelunch fortified their scratchmade dough with pureed veggies.
10 Reasons Why Families
Choicelunch
Convenience
Our goal is to make lunch super simple and stress-free for our families.
Choicelunch app
Order lunch in less than 10 seconds, from anywhere at anytime.
Full control
Order everything online - an entrée, sides, fruits/veggies, and drinks.
Variety
Up to 16 options daily, including a variety of hot and cold entrées.
Allergen filter
Customize your menu to only show items that meet your student's dietary needs and preferences.
Whole ingredients
We use whole, fresh ingredients sourced responsibly from trusted partners.
Registered dietitian
A registered dietitian reviewed and approved every ingredient and recipe we use.
Earth friendly
We source compostable or 100% post-consumer recyclable packaging.
Flexible deadlines
For the full menu, order by noon, 3 days before service. Or order by 9 am the day before from the limited menu that offers quite a variety too.
Customer support
We offer a robust FAQs page that can answer most questions. If you can't find what you want, send us an email.
Our Commitment to the Environment
We are committed to being good stewards of the environment. We use only compostable or 100% post-consumer recycled packaging and consistently strive towards reducing the carbon footprint.
From Classroom to Community
The Future of School Lunch on ABC7
Join the Choicelunch Family!